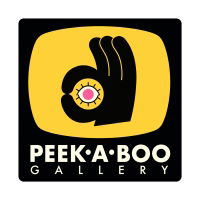 Weekly Auctions of Exceptional Items
In the heart of historic, Old Town Pasadena, California, a new window to discover the past has opened… Peekaboo Gallery is a fresh concept in the curation, exhibition and sale of exceptional antiques and collectible memorabilia. Through innovative, experiential presentations, Peekaboo Gallery will offer its visitors an unabashed celebration of that most fantastic, turbulent and innovative period in history known as the Twentieth Century. 40 Mills Place, the home of Peekaboo Gallery, is itself a case-study definition of the word "history." This classic brick building erected in 1886, was central to one of Southern California's first commercial districts. The space also has a gallery pedigree having once been home to the groundbreaking, Medenhall-Sobieski Gallery. Peekaboo Gallery is the creation of Jordan Reichek. A thirty-year veteran producer/director in the animation industry, Jordan was also a rabid gatherer of everything vintage pop-culture. His sizeable collections included records, furniture, automobiles, illustration art, clothing, posters, coin-op, ephemera, comics, and advertising. His two most passionate areas of collecting have been vintage commercial Tiki décor and memorabilia from Walt Disney's first theme park, Disneyland. Unsatisfied with decades-old, conventional auction formats and traditional wholesale dealers, Jordan sought for an alternative way to liquidate some of his holdings. Using his experience as a storyteller in animation, Jordan conceived of a new way to present his unique collections for sale, showcasing them in two innovatively themed events. The first, a Disneyland exhibition and sale, was showcased in the fabulously successful auction, The Story of Disneyland. The catalog is itself a work of art and has since grown into collectable status of its own. The second sale presented the historical significance of mid-century Polynesian commercial escapism in The Art of Tiki. That show was also capped with an original book/catalog by famed author and Tiki authority, Sven Kirsten. With overwhelming press and public enthusiasm, the exhibition sold out before the doors officially opened. Now with Peekaboo Gallery, Jordan has created a new cultural destination in the popular district of Old Town Pasadena. Peekaboo's mission is to offer the veteran and novice, hunters and browsers, a museum-style, theatrical experience where the showcased subject matter alternates on a regular basis. Every two months, the featured collection of vintage memorabilia on offer changes as does its dramatic, experiential presentation.
Upcoming Auctions
News
Reviews
Past Auctions
Upcoming Auctions from Peekaboo Gallery
Peekaboo Gallery has no upcoming auctions. auctioneer to hear about new auctions.
Bidder Reviews for Peekaboo Gallery

(

3

)
2 Latest Top ReviewsSee All
Liveauctioneer's platform is simple and easy to use. The payment process and shipping process to four telephone calls on my part to arrange everything. I felt the process should have been more automated. Liveauctioneer took my credit card information to approve bidding it should flow over to the transaction and shipping payments.
David
Bell Gardens, California
Jordan is great to work with:)
News about Peekaboo Gallery
Past Auctions from Peekaboo Gallery
Started Oct 13, 2018 2:00 PM EDT
Pasadena, CA